Custom Wheels And Tires For The Ultimate Look And Performance
Sinister Rides Will Have You Rolling In Style With New Custom Wheels And Tires
At Sinister Rides, your premier custom wheel and tire shop in Tampa, we can help give your vehicle the superior handling and unique look you'll love with a new set of custom wheels and tires. One of the fastest and most popular ways to make your car unique is with a cool set of new custom wheels and tires. Not only will it give your vehicle a customized and beautiful new look, you can dramatically improve your vehicle's performance too. Our custom wheel and tire experts will work closely with you to upgrade your vehicle to the wheels and tires that give you the customized look and performance you'll love.
Whether you want to upgrade your wheels and tires for aesthetic reasons, for enhanced performance…or both! The customization pros at Sinister Rides are here to help you! We will take our time to understand what's important to you so we can help you achieve the ultimate results for your specific make and model. We carry a huge variety of custom rims and tires that you can choose from. Not sure where to start? Our wheel and tire customization specialists and artists will help you compare all your wheel and tire options so you can achieve the look and performance you're dreaming of.
The Wheel And Tire Options Are Unlimited at Sinister Rides
At Sinister Rides the possibilities are endless for customizing your vehicle with state-of-the-art rims and tires for superior handling and an impressive one-of-a-kind look that gets noticed wherever you go.
Lighter wheels will give you improved suspension performance and more responsive accelerations and decelerations.
With larger wheels you'll enjoy more traction with the road, improving your cornering and handling.
If it's a new look you're after, you can choose from hundreds of cool and unique rims to match your vehicle and your style.
We also offer custom wheel covers, powder coated wheels, and decorative valve caps to help take your vehicle's style to the next level.
A set of low profile tires can give your vehicle a more sporty look and give you that high performance responsiveness you'll love.
No matter the make and model of your vehicle, we can help you choose the best custom wheels and tires to achieve that stunning personalized look you wish your car had. The Sinister Rides wheel and tire experts are passionate about transforming the look of their clients' vehicles and enjoy watching them drive out of our garage in their uniquely customized dream car…100% happy and satisfied.
The Highest Standards In Custom Wheel And Tire Installation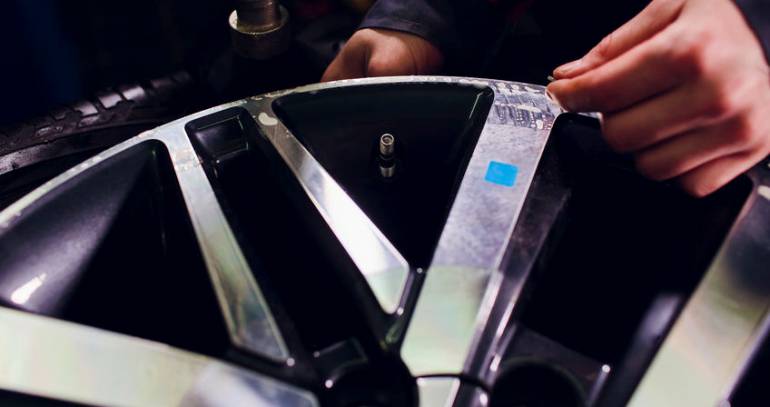 When you decide to choose the wheel and tire gurus at Sinister Rides to install your new custom wheels and tires, your vehicle is in great hands. At Sinister Rides, our state-of-the-art full vehicle customization facility is fully equipped with the most advanced tools, equipment, computers, software, and the most experienced team of professionals to make your custom wheel and tire installation perfect.
Don't trust your custom rim and tire installation to just anybody. Our Sinister Rides customization specialists and artists have spent hundreds of hours customizing cars of all makes and models. So you can put your mind at ease that you are getting the highest quality workmanship and unsurpassed attention to detail for the installation of your new wheels and tires when you choose to work with the experts at Sinister Rides.
100% Satisfaction Guarantee For Your New Custom Wheels And Tires
We know that our clients are passionate about achieving the best look and performance for their vehicles. Which is why we don't settle for anything less than perfection when customizing our clients' rims. We are proud of every set of customized rims and tires we install and stand behind our quality of work with a 100% satisfaction guarantee and a one year warranty.
Don't trust your dream rim customization to just anyone. And don't settle for anything less than perfection! Your car deserves the best care and attention to detail that only the experts at Sinister Rides can deliver.
At Sinister Rides, the custom car rim and tire shop in Tampa Bay, our car gurus treat our clients like family and work closely with them throughout the entire wheel and tire customization process to make sure that they leave our custom car shop excited and happy with their one-of-a-kind, high performance vehicle that will cause a buzz…everywhere they go.
To have the wheel and tire masters at Sinister Rides transform your car's performance and look, give us a call today at (813) 444-4361 to schedule your free wheel and tire customization consultation.
Contact The Car Customization Pros At Sinister Rides Today!
Get the new custom rims and tires you've been dreaming of with the customization pros at Sinister Rides! At Sinister Rides, we can make your dream rims a reality…fully customized with a unique, impressive look…so you can roll in style! Fill out the form below to schedule a free rim and tire customization consultation.