Car Ceramic Coating Adds A Glass-Like Shine And Layer Of Protection To Your Vehicle
Car Ceramic Coating Keeps Your Car Looking Shiny And New
Sinister Rides is your number one choice for car ceramic coating in the Tampa Bay area. Our team of ceramic coating specialists will make your vehicle shine like new and give your car an extra layer of protection against dirt, bugs and pollen. Protecting your car with a water-repellent, high quality ceramic coating is a quick and easy way to increase your car's value, make it easier to keep clean and give you a beautiful, flawless finish.
Protecting your car with a professional ceramic coating is a great investment in your vehicle! Since ceramic coatings last for years, coating your car will help keep it looking like new and help maintain its resale value for years to come. And since ceramic coatings repel dirt and water you will find that you won't have to wash it as often, making ceramic coating a time-saving and money-saving investment in your beautiful car.
Ceramic Coating Is The Best Choice For Glossy Vehicle Paint Protection
Professionally applied ceramic coating is the best choice for making your car's paint job look its best and protecting your car's paint job from damaging elements. The benefits of vehicle ceramic coating include:
The glossy, glass-like shine of ceramic coating is more intense and brilliant than any other waxes or sealants.
Conventional waxes and sealants may be less expensive than ceramic coating but they will only last a week or two, whereas a professionally applied ceramic coating can look great for years to come.
Also, ceramic coatings have a higher durability than conventional waxes, so they are more effective in protecting your car's paint.
A ceramic coating will make your car hydrophobic (water-repellent). This will help rain water, dirty water and hard water simply roll off the vehicle surface, keeping your vehicle cleaner for a longer period of time.
Since your vehicle will stay cleaner in general, it will save you time and money in vehicle maintenance.
Ceramic coating protects your car's paint job from the damaging and fading effects of UV rays from the sun, so your car will stay looking like new longer.
Ceramic coating helps prevent bugs, pollen and other chemicals from sticking to your car's paint, helping to further protect your car's paint job.
Our ceramic coating specialists are passionate about the amazing benefits of a beautiful, protective ceramic coat for your vehicle. And we love watching our clients drive away in their gorgeous, glossy vehicles…100% satisfied.
Ceramic Coating For Your Vehicle Meticulously Applied By The Experts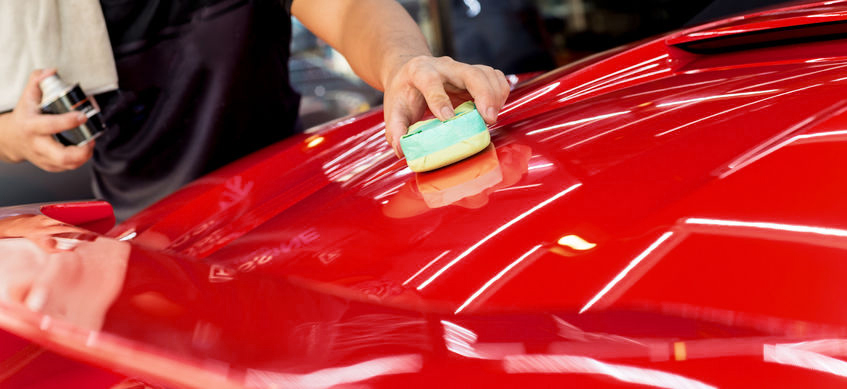 It is important to know that applying ceramic coating to your vehicle should only be performed by professionals who have skill and experience in ceramic coating application. Using a superior quality ceramic coating product and meticulously following the proper steps are key in achieving flawless, long-lasting results. Since the ceramic product will be chemically bonded to your vehicle's clear coat the process must be performed perfectly the first time. Also, to achieve the ultimate results, paint correction must be performed before applying the ceramic coating to remove any existing nicks or scratches. The actual ceramic application must be performed using the proper techniques. And appropriate curing will be necessary to make sure the product sets properly.
So don't trust your the ceramic coating of your car to just anybody. The professional ceramic coating experts at Sinister Rides have the technology, skill and experience to make your vehicle coating perfect. So you can put your mind at ease when you leave your vehicle with the Sinister Rides pros for your ceramic coating. At our state-of-the-art car ceramic coating shop in Tampa we use the best ceramic products and use the most meticulous coating techniques. Most importantly, we are passionate about making every vehicle that leaves our auto customization facility a stunning work of art! So you know you'll be getting the highest quality workmanship and unsurpassed attention to detail for your car ceramic coating.
100% Satisfaction Guaranteed For Your Vehicle's Ceramic Coating
We know that you expect a flawless finish for your car's ceramic coating…which is why we don't settle for anything less than perfection when applying a ceramic coating to your vehicle. Here at Sinister Rides we stand behind our quality of work with a 100% satisfaction guarantee and a one year warranty.
Experience and technique are the keys to ceramic coating perfection that shines and lasts, so don't trust your ceramic coating to just anyone. Your vehicle deserves the best attention to detail that only the experienced professionals at Sinister Rides can provide.
At Sinister Rides, your premier ceramic coating shop in Tampa Bay, you can expect our talented team of vehicle detailing experts to treat you like family. We have a passion for making your car look it's best and we're excited to help you get started on your car ceramic coating today!
To have the ceramic coating masters at Sinister Rides give your vehicle a flawless glass-like, protective shine that will last for years to come, give us a call today at (813) 444-4361 to schedule your free ceramic coating consultation.
Contact The Ceramic Coating Experts At Sinister Rides Today!
Get your vehicle ceramic coated by the ceramic coating specialists at Sinister Rides! At Sinister Rides, we can transform your car's dull exterior finish into a stunning, glass-like shine that will keep your car looking like new and protect it for years to come! Fill out the form below to schedule a free ceramic coating consultation today.