Car Performance Upgrades For More Speed And Acceleration That'll Blow You Away
Boost Your Driving Experience To The Next Level With Performance Upgrades At Sinister Rides
At Sinister Rides, your premier car performance shop in Tampa, we can help you take your driving experience to the next level with performance upgrades that will blow you away. Customized performance upgrades for your vehicle will give you speed, acceleration and control you thirst for. Our car performance experts at Sinister Rides will work closely with you to determine the best upgrades for your vehicle to bring it into beast mode…you'll be leaving everyone in the dust with superior handling and incredible efficiency.
Whether you're taking your ride to the races or just want that superior performance on the roads, the car performance pros at Sinister Rides are here to help you! Looking to bring out the best in your car with custom vehicle tuning? We specialize in custom car tuning for vehicles of all makes and models. Are you craving the adrenaline rush from extreme accelerations and horsepower? Let's take your vehicle to the next level! Our experienced vehicle performance specialists are excited to help you with your performance upgrades.
No Limits On Car Performance At Sinister Rides
At Sinister Rides we'll help you push the limits effortlessly and safely with a wide range of performance upgrade possibilities to give you the performance, efficiency and control you're dreaming of.
Custom tuning for your specific make and model to optimize your vehicle's overall performance and efficiency
Custom exhausts to rumble, boost your horsepower and torque while maximizing efficiency
Track-inspired suspension modifications for extreme handling and stability
Street-legal supercharger systems for unsurpassed horsepower, giving you mind-blowing acceleration and speed
Complete overhauls to bring your car's performance to the extreme
No matter what your vehicle performance goals are, we can help you choose the best vehicle upgrades to achieve the power, speed, handling and efficiency you're looking for. We are passionate about pushing the performance limits with every vehicle upgrade we do for our clients and love to watch our clients peel out of our custom car performance shop in their dream car…100% satisfied.
The Highest Quality Workmanship For Your Car Performance Upgrades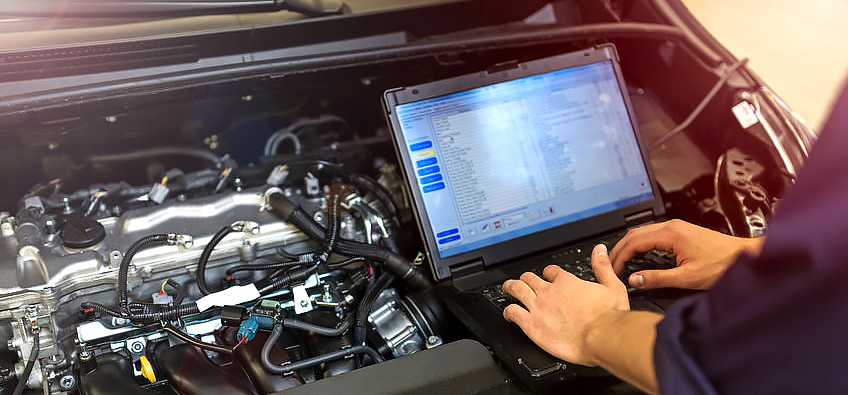 When you put your trust in the vehicle performance specialists at Sinister Rides to transform your car into your dream machine, you can rest assured that your vehicle is in great hands. At our Sinister Rides state-of-the-art vehicle performance upgrade facility we have the latest equipment, tools, computers, software, the best parts, and the most experienced team of professionals to make every car performance upgrade flawless. Excellent workmanship and years of experience make all the difference for your performance upgrades.
Our Sinister Rides vehicle performance experts have spent hundreds of hours optimizing cars of all makes and models to enhance their performance. So you can put your mind at ease that you are getting the highest quality workmanship and unsurpassed attention to detail for your vehicle performance upgrade. When it comes to optimizing vehicle performance, achieving the ultimate results for our clients is what we enjoy most…because fine-tuned, high performance vehicles will rule the road…and the racetrack!
Nothing Less Than 100% Satisfaction For Your Vehicle Performance Upgrades
We know that you will expect amazing performance from your car…which is why we don't settle for anything less than perfection when optimizing your vehicle performance. We are proud of every vehicle performance upgrade we complete and stand behind our quality of work with a 100% customer satisfaction guarantee and a one year warranty.
Don't trust your vehicle optimization to just anyone. And don't settle for anything less than perfection! Your car deserves the best care and attention to detail that only the experts at Sinister Rides can deliver.
At Sinister Rides, your premier custom auto performance shop in Tampa Bay, our highly-skilled car performance specialists will treat you like family and work closely with you throughout the entire upgrade process to make sure you leave our custom car performance shop excited with your epic, optimized vehicle that will out-perform the competition…everywhere you go.
To have the car performance masters at Sinister Rides transform your car into the driving machine you dream of, give us a call today at (813) 444-4361 to schedule your free car performance upgrade consultation.
Contact The Vehicle Performance Pros At Sinister Rides Today!
Upgrade your vehicle performance with the auto performance pros at Sinister Rides! At Sinister Rides, we can make your dream car a reality…fully optimized for insane acceleration, incredible speed, and superior handling…so you can enjoy the ride of your life with confidence! Fill out the form below to schedule a free vehicle performance upgrade consultation.